Open doors to you making new friends and having adventures with the companionship of like-minded people.
We are a Canterbury-based company providing greener, affordable shared social event and destination journeys for all ages.
Like a second family, Lifestyle Companions is here when you, or a loved one, want a social journey with others or need a personalised companion driver to appointments and events of life.
Lifestyle Companions helps support your needs and social network. Our journeys bring people together to build and maintain companionship whilst enjoying life. You can have fun and enjoy an excursion with a group of new or existing friends, but still retain your independence without needing to ask family for help with transport.
We follow Covid-19 Government Website guidelines under the Covid-19 Protection Framework for Charter Transport Operators for our member clients and staff, and follow any relevant requirements at our journey destinations.
Calendar tabs can be adjusted to suit you, - e.g week view, month view, add to digital calendar, print
Most events have a 'Book Here' link - just note the exact day and time when going through to booking page.
Blue titles indicate VAN Journeys, Green for CAR Journeys,  Dark Green for Greener Events, and Pink for Free or Discounted Journeys prioritised for members first.
Ticketed events e.g. concerts, or activities with entry fees, you will need to contact us directly to express your interest so when there is enough interest we can arrange a social journey for it.
You can choose to be a member or a casual client for small group van and car journeys,  travelling mainly around Christchurch and its surrounding areas for shopping, cafes, classes, appointments, concerts, movies - we welcome your suggestions to your favourite places.
We also offer journeys further afield, including:
and even Mystery Destination Journeys!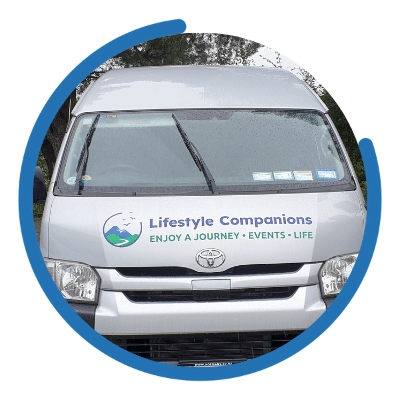 Companion Driving and Airport Transfers - Your Time, Your Way!
Offering personalised companion driving also enables you to get to medical or other appointments with peace of mind, go shopping, or attend life events.
Our driver can accompany and assist you, as needed.
Get in touch, and we will do our best to accommodate your requirements.
Airport Transfers, including late evening, and early morning for those pesky awkwardly timed  flights. Pricing based on time and distance from North Canterbury, Selwyn and Ashburton areas.  Set pricing for within Christchurch boundaries.  Please get in touch for more information.
Our seasonal and annual vouchers offer excellent value, and unlock member rates for additional journeys and added benefits.
Enables you to gain membership to Lifestyle Companions, and shows availability on all our types of journeys.